THE WAY THERE
(Stills from the video, filmed by Noud Heerkens and photograhs taken by Loes Dijkman)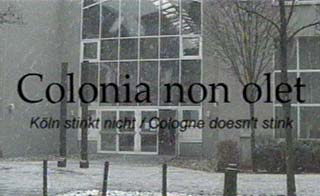 11.00 h / Hall of the Gothaer Kunstforum
The reception desk in the hall of the Kunstforum is opened.
exactly at 11.47 h / Front yard of the Gothaer Kunstforum
Start of the walking tour. Vorläufer (forerunner) Arnold Schalks and Kameraführer (cameraman) Noud Heerkens leave the Kunstforum. They walk in the direction of the Bonnerstraße.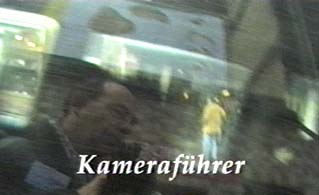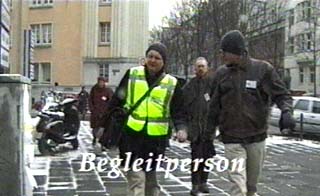 11.53 h / Alteburger Wall
Begleitperson (escort person) Klaus Sievers takes the 52 Mitläufer/innen (followers) by public transport to the Eigelsteintor (Eigelstein-Gate).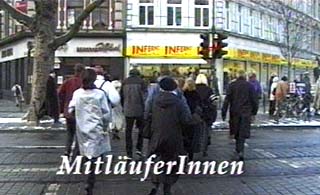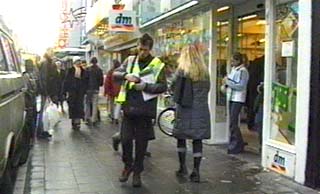 12:17 h / Severinstraße
The Vorläufer leaves the sixth Colonia non olet-station: Drogerie Markt, Severinstraße 113.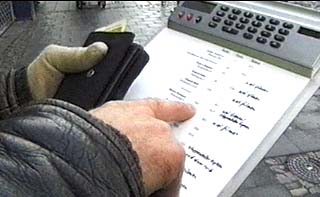 Table of orientation and pedometer.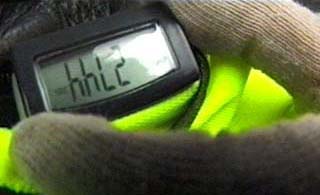 12.32 h / Eigelsteintor
Arrival of the Begleitperson and the Mitläufer/innen at the Eigelsteintor. Distribution of hot drinks.
12:35 h
The Vorläufer at the Dom-Square.
12.44 h / Eigelsteintor
The Vorläufer and the Kameraführer reach the Eigelsteintor. Official announcement of the pedometer reading for the way there.
12:48 h / Eigelsteintor
Start of the water mixing procedure and execution of the first part of the public watering ceremony.
12:52 h / Eigelsteintor
Start of the way back: The Vorläufer leaves the Eigelsteintor accompanied by 45 Mitläufer/Innen.