STARTING POINTS / Arnold Schalks
HISTORY

Founded in 1801 by Robert Richard Randall, Sailors' Snug Harbor was the first maritime hospital and home for retired sailors in the United States. The Staten Island complex with its Greek Revival style buildings served this purpose for 143 years. In 1976 the remaining retired sailors moved to a new location in North Carolina. Their former 'harbor' is now being restored and converted to a major metropolitan cultural center: Snug Harbor Cultural Center.

EXPLORATION

On July 10, 1996 I took the down-boat across the Upper New York Bay to visit Snug Harbor Cultural Center for the first time. I was guided through the vast area of the former seamans' home. On board of the up-boat I decided to apply for the SHCC 1998 artist-in-residence programme. I was invited to submit a proposal.

In July 1997, I returned to the Snug Harbor Cultural Center for a two week period to reflect on my future project. I got access to the local remnants of the Sailors' Snug Harbor archive and spent an impressive day reviewing faded newspaper articles, ancient death certificates, nautical charts, petitions of offended Snuggies to their Governor and assorted artifacts. I set out to look for the Harbor's cemetery with dry mariners' graves in vain.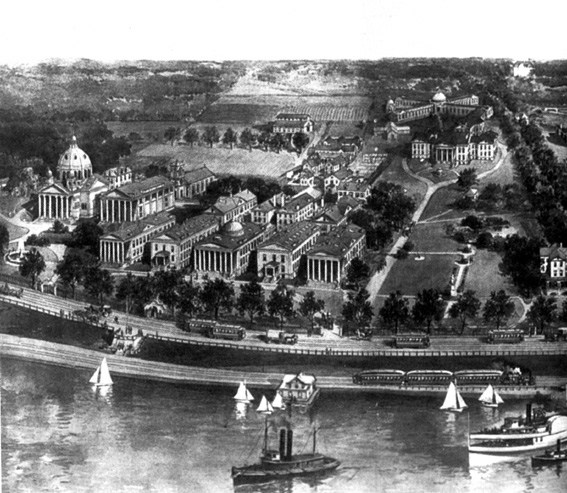 Sailors' Snug harbor 1898
SOURCES

The book 'Sailors' Snug Harbor' by Barnett Shepherd provided the basis for the actual project. After having read past it many times I finally realized the poetical implication of the sentence: "The move of Sailors' Snug Harbor to Sea Level in North Carolina began in 1976." With a drastically diminished enrollment of residents, Sailors' Snug Harbor had decided to sell its 28 buildings and 83 acres of property in the early seventies. The facility was too large and its up-keep was prohibitive. The operation of the retirement home was moved to a more modern and efficient facility in Sea Level, North Carolina.

Sea Level is a remarkable name for a settlement, even more if it is the residence of a sailors' home. But sea level is also the premise for a life at sea: the balancing act on the fine line between being lost or being saved. These conclusions are the starting points for the communicating vessels project.

OBJECTIVES